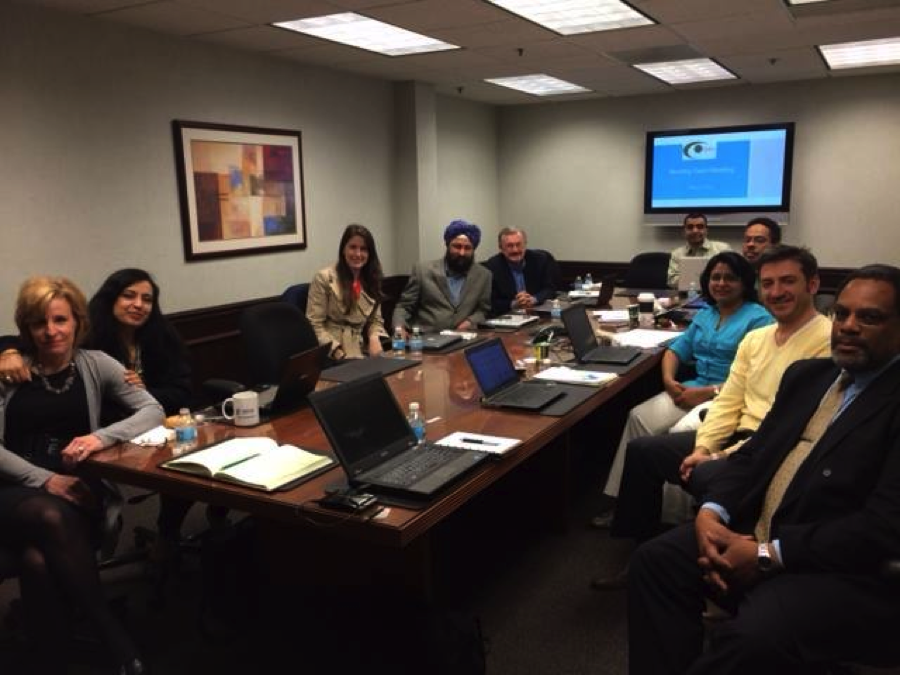 Hello! My name is Martha Arrizabalo and I am currently a Full Time MBA Candidate. This summer quarter, I am interning for Iyka Enterprises, Inc., which is an IT service provider that delivers innovative technology to their clients, such as application developments, software solutions and database services. Iyka Enterprises was founded in 2000 by Ms. Poonam Gupta, who is currently Iyka's CEO and President.
I'm working at Iyka Enterprises as Marketing Intern, and I must say that even though I'm an intern, this company has given me the freedom to plan and execute marketing campaigns, and to recommend actions in order to align marketing and sales efforts. One of the things that I enjoy the most of working at Iyka Enterprises is that I work with a multidisciplinary team.
Bellow is a picture of one of our meetings, where there are leaders from all departments: sales, technical, business solutions, advisory, etc.
A day at Iyka Enterprises would be difficult to define. During the last month, I worked close to IBM, Cisco and Motorola in order to accomplish a partnership between them and Iyka Enterprises. This process involved studying which solutions are the best fit for Iyka Enterprises, following the application process for each of these companies, and taking and passing the trainings required.
I'm very happy to say that these partnerships are finally signed and now Iyka has a more robust portfolio of offerings to promote among their clients. One of my goals now is to plan marketing campaigns that reach new clients, promoting our new portfolio. In addition, one of the benefits of partnering with big corporations is that we have marketing resources available to use. Therefore, I have to be aware of these benefits and work with the partners in order to take advantage of the marketing resources, such as online marketing campaigns, unsolicited proposal campaigns, events, etc.
Currently, I spend much of time defining the marketing campaigns that we will execute in the short run, and working with the sales team in order to verify the process flow between marketing and sales. I also keep working with partners and our sales and technical team in order to identify those certifications that Iyka Enterprises needs, to be able to promote the offerings required in the market.
I'm extremely happy working at Iyka Enterprises! This is a company that hears their employees and recognizes good ideas. My education and previous experience have given me a competitive advantage, and I'm glad to bring my knowledge into Iyka Enterprises. I also must say that while my internship, I have learned valuable insights about the real business world: I have been involved in meetings with clients, where I have observed the negotiation process. I also have been in sales meetings, where I have learned the difficulties that market is having and how approach them. All these insights have nurtured me professionally, and I'm very thankful to Iyka for giving me the opportunity to obtain valuable business insights that help me to grow professionally.
At the end, when my boss call me and ask me to be in a meeting because she wants to know my opinion about something they are working, is the most rewarding part of my day.